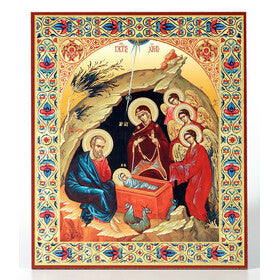 Mounted Icons have Gold Foil and are Printed on Wood and Ready to  Hang

8 3/4"x7 1/4"
THIS BEAUTIFUL ICON OF THE NATIVITY OF CHRIST IS MADE IN RUSSIA BY THE WORKSHOP OF THE MOSCOW PATRIARCHATE.
This portrays the Christ Child in the manager in a cave (stable) with the Virgin Mary, St Joseph and adoring angels. This presentation of the Holy Family. in the Nativity setting will make a meaningful addition to any Christmas remembrance in your home church.
CHRIST IS BORN! GLORIFY HIM!