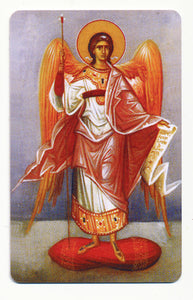 Plastic icon cards. Appropriate Orthodox prayer on the reverse side. 2 1/8" x 3 3/8".
Guardian Angel

O Angel of God, my holy guardian,
keep my life in the fear of Christ God,
strengthen my mind in the true way,
and wound my soul with heavenly love,
so that guarded by thee,
I may obtain great mercy of Christ God.
Thanks be to Jesus Christ,
who gave thee to me freely
to be my soul's great guardian
and weapon against my foes,
O thou Angel honored by our God.