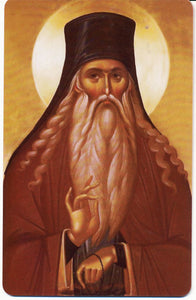 Plastic icon cards. Appropriate Orthodox prayer on the reverse side. 2 1/8" x 3 3/8".
Prayer on the reverse side:

+
St. Paisius Velichkovsky
November 15/28
A sojourner upon the earth,
thou didst reach the heavenly home,
O Paisius, ascetic of goodly love,
and didst teach the faithful
to lift up their minds on high
and to cry out unto the Lord God
with all their heart:
O Lord Jesus Christ, have mercy on me.