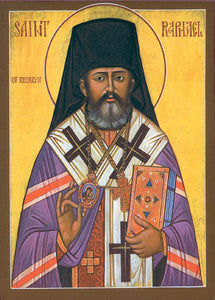 Plastic icon cards. Appropriate Orthodox prayer on the reverse side. 2 1/8" x 3 3/8".
Prayer on the reverse side:

St. Raphael
Bishop of Brooklyn
Troparion
Your proclamation has gone forth throughout North America,
calling the scattered sheep into the unity of the Church.
Hearing your voice, they responded to your teaching,
and through your writings you instructed them in piety.
Now guided by your example, O Father Raphael,
we sing hymns of praise unto Christ our God.
Glory to Him Who gave you strength!
Glory to Him Who granted you a crown!
Glory to Him Who, through you, grants healing to all!

Kontakion
You were a guardian and a defender of the Church's teaching.
You protected your flock from false doctrines
and confirmed them in the true faith. O holy father Raphael, son of Syria and glory of North America.
Always intercede before the Lord that our souls may be saved