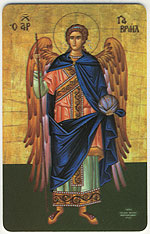 Plastic icon cards. Appropriate Orthodox prayer on the reverse side. 2 1/8" x 3 3/8".
Prayer on the reverse side:


St. Gabriel the Archangel
O Archangel Gabriel, glorious minister and intercessor
Of the most radiant, holy, all-accomplishing,
ineffable and fearsome Trinity,
Pray unceasingly now
that we may be delivered from all calamity and torment,
That we may sing to you:
Rejoice, O protection of your servants!
Kontakion in Tone 8