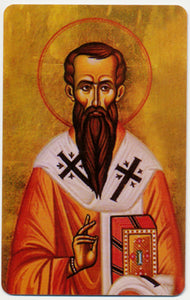 Plastic icon cards. Appropriate Orthodox prayer on the reverse side. 2 1/8" x 3 3/8".
SAINT BASIL THE GREAT
TROPARION OF SAINT BASIL

"Your voice has sounded all over the earth,
that accepted your preaching.
You gave a divine explanation of doctrine,
and you have made clear the nature of creatures
and set a rule of life for men.
Holy Father and Kingly Priest Basil,
intercede with Christ God to grant us great mercy!"