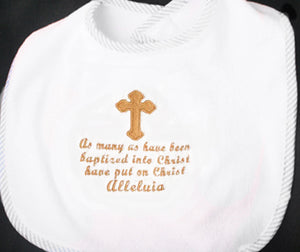 Embroidered Cross available in a variety of colors. Made out of thirsty terry cloth
Soft and Absorbent!!
Bib is extra large to handle all messes at 12x9.

This thirsty cotton bib is super handy. Just throw it in the washing machine after each use. VELCRO® brand closure. Bib is made of 80% cotton/20% polyester terry fabric.

Soft terry cloth white bib with choice of edging-blue/white, pink/white, or solid white edging.
Embroidered in gold with white satin trim, an Orthodox cross and the words: As many as have been baptized into Christ have put on Christ - Alleluia.