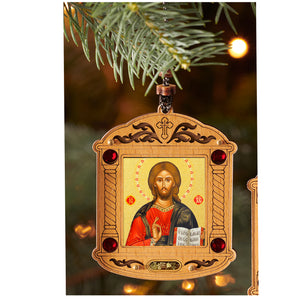 Enhance your holiday celebration with this stunning Nativity of Christ Gold Foil Wooden Icon Ornament! Crafted from wood and featuring a rich gold foil finish, this ornament captures the timeless beauty of Christ's Nativity. Hang it on your tree this year and bring a special touch of joy to your home!
Christ the Teacher icon Ornament.
Christ is pictured blessing with his right hand and with an open book of Gospel to the text "I am the Light of the World..." in his left hand.

Each wood shrine has a 10 inch adjustable cord for hanging. Below the icon in each shrine are a few grains of "incense" as a symbol of our prayer - "Let my prayer arise as incense before Thy site." Each shrine is enhanced with red (symbolizing Christ's Resurrection) crystals.

Perfect as a mini shrine for car or home. A great Christmas ornament, A great organization gift - Sunday School or Ladies Societies.

Icon and wood frame made in Ukraine.