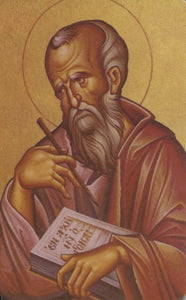 Plastic icon cards. Appropriate Orthodox prayer on the reverse side. 2 1/8" x 3 3/8".

John the Apostle
Evangelist and Theologian
Apolytikion
Beloved Apostle of Christ our God,
hasten to deliver a people without defense.
He who permitted you to recline upon His bosom,
accepts you on bended knee before Him.
Beseech Him, O Theologian,
to dispel the persistent cloud of nations,
asking for us peace and great mercy.

Kontakion
Who can recount your greatness, O virgin,
for miracles flow and healing springs forth from you.
You intercede for our souls,
as the Theologian and friend of Christ.